TOUR GROUPS
We understand tour groups at the Radisson Hotel Baltimore Downtown-Inner Harbor so why not stay with the experts in group travel? Our tour & travel specialist will be sure to make planning and executing your next tour group easy.
Property offers 324 guest rooms & 130 double bedded guest rooms
Assistance with motorcoach parking so that your bus driver can relax and focus on your team
Group check-in (key packets set prior to arrival) will defiantly make your group's experience a memorable one
Our on-site team can assist in turning off pay per view movie channels
Customized student tour menus. Click Here to see current tour & travel menus
Ability to create and host dance parties & movie events

Centrally located in the heart of Downtown Baltimore simply makes us the best choice to host your next event. Our ideal location will ensure your guests have time to get to their destination while taking in the sites of our beautiful city.
Adjacent to Baltimore's historic Royal Farms Arena
3 blocks from Baltimore's iconic Inner Harbor
3 blocks from the historic Lexington Market
3 blocks from the Hippodrome Theatre
3 blocks from the Everyman Theater
3 blocks from University of Maryland Medical Campus and Johns Hopkins University

4 blocks from Harbor Place Shopping Plaza
4 blocks from Camden Yards, home of the Baltimore Orioles
4 blocks from M&T Stadium, home of the Baltimore Ravens
4 blocks from Horseshoe Casino
5 blocks from The National Aquarium
1 mile from Baltimore & Ohio Railroad Museum
1 mile from Maryland Science Center
5 miles from Coppin State University
5 miles from Loyola University
30 miles from Annapolis the state capital
38 miles from Washington D.C. the nation's capital

Please be sure to ask for our Tour & Travel Specialist, Kiersty Kastner-Burr
P 703.261.5677 E kiersty.kastnerburr@crescenthotels.com
We are a Sports Approved Hotel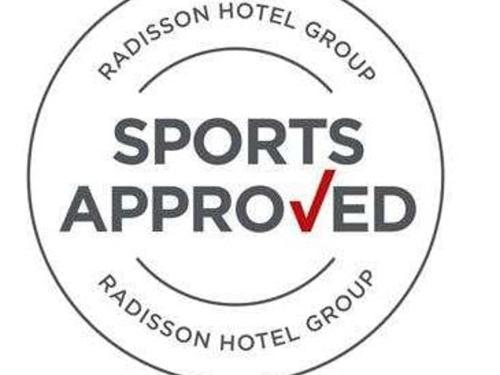 YOUR MOST VALUABLE PARTNER
We are your team's biggest fans! The Sports Approved Program at Radisson means that this hotel has a proven track record of working with sports groups to provide consistent service that caters directly to the groups' unique needs. A Sports Approved Hotel means we're part of your team and want to be your MVP!
The Sports Approved Program offers your group the following:
Special recognition for the head coach or manager
We will provide your team with directions to fields or sports complex
Complimentary WIFI in all guestrooms
Group pre-keyed and rooms pre-blocked to ensure the team is able to get right to their rooms
Internal "Sports Group Resume" prepared and shared with out staff
Team breakfast options Click Here to see current menus
Complimentary use of meeting room perfect to serve your teams breakfast
Discount coupons for Harbor Sports Bar & Grill
Guaranteed commission & rebates are paid within 45 days

Contact our Sports Specialist, Cailtlin Feeley to book your team
P 410.385.6515 E cailtlin.feeley@crescenthotels.com